Giving presentations is a part of almost every class we have in college. Back in high school, they were final assignments and cumulative experiences. But now, it's entirely possible that you're taking a class that requires multiple presentations through out the semester. Senior seminars may require giving a final presentation to an entire auditorium for half of your grade. Summer researchers must present to family, friends, and local press. Students doing independent research will probably present at a conference. And as an audience member and conference goer, I've seen some terrible presentations.
"But Cari, hold on a second," you may be thinking. "I've done a ton of presentations. My presentation won't be terrible!"
Sure, experience helps. But thinking that way is dangerous because every presentation you do is different. It's for a different class, on a different topic, for a different audience. To handle those different classes, topics, and audiences, here's a list of tips to help you prepare and present to the best of your abilities:
General Tips for Presenting (2-5 minute presentations)
Practice the presentation. An obvious tip, but practicing the presentation all the way through several times will help you establish a speech without notecards.
Find someone to practice with. Having an actual audience to make eye contact with is great practice.
Don't rely on notecards. They take your eye contact away from the audience. It also makes it look like you didn't practice (which you totally did!).
 Don't read off the slides. It makes you seem unsure of yourself.
Keep eye contact on the audience. It makes you look engaged and confident in your knowledge of the topic. Look at a friend or the professor. Sometimes just picking a spot on the wall in the back can help.
Don't announce that you're nervous. Fake the confidence if you need to, but announcing nerves won't improve your grade and could actually make you more nervous.
Take a breath between each slide, or section, to slow down. Often, students will talk very quickly during a presentation and the audience will miss an important point from your presentation.
Bring a timer. A watch, or a phone on silent, to help you keep track of your remaining time will help you pace yourself.
Keep your feet and hands still. Fidgeting or talking with your hands can be distracting to the audience.
Dress like a professional. Jeans and a t-shirt are not going to make a good impression. Go for business casual.
Ask for questions at the end. This may help boost time to meet the requirement.
From http://blog.loyola.edu/
Long presentations (5-10 minutes)
Practice in the room you will be presenting in. Normally, classrooms will be open at night and practicing in a similar setting will help calm nerves and retain memory.
Find a friend in the class to practice with. They may have feedback more relevant to the class or professor than a roommate with a different major.
Dress up in business attire. At this level, professionalism is probably going to have a factor on your grade.
Questions at this level or beyond may become complicated. Do your best to answer the questions as completely as possible, but do not make up any information or research.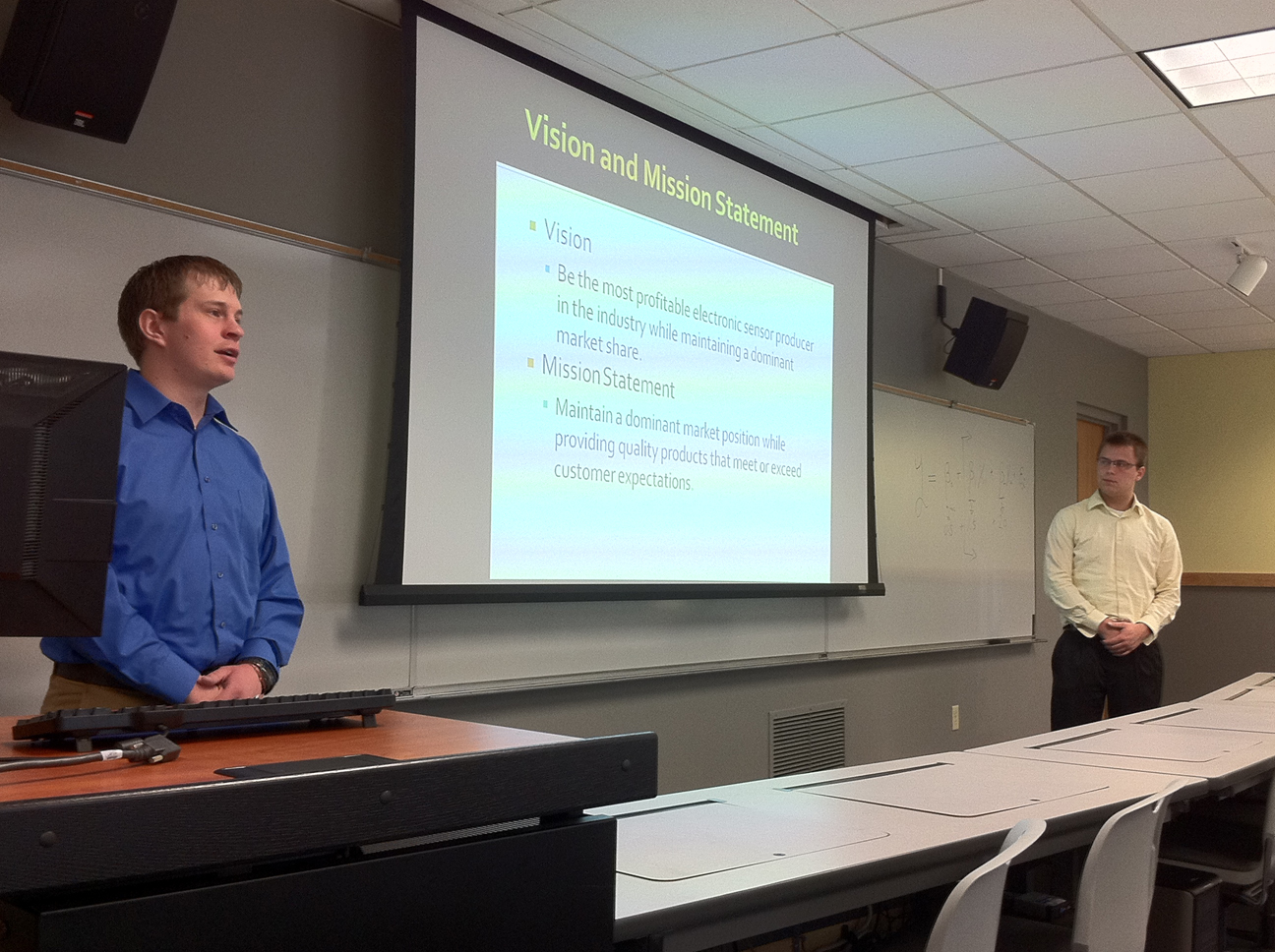 From http://blogs.mtu.edu/
Senior Seminars (15-30 minutes)
Bring water with you. Your throat will become dry and you coughing in the middle of the presentation doesn't look good. You can also use water as a tactic to slow down.
Book the auditorium, or conference room, wherever you will present, to practice in. Practicing in the exact space will help your memory and calm your nerves. This is the link to reserve spaces: https://www2.mcdaniel.edu/reservation/search/login
Just log in with your McDaniel username and password and search for the building where the room is located.
Practice around the same time of day that you will be presenting. If you only practice at night but your presentation is at 8 a.m., you're not as likely to remember everything than if you had practiced at 9 a.m.
If using a laser pointer, which is a great way to bring focus to certain bullets, hold the laser pointer gently in your hand and press your elbow to your side. This will help the pointer from shaking.
Plant a question or two with the audience. These questions should be relevant, of course, but should help show off how well acquainted you are with the topic.
Body language is critical at this level and beyond. Standing with a confident gait will help reduce distracting body movement and help get you into your groove of presenting.
From http://www.flickr.com/commons/
Conference Presentations
Do not start talking at an observer if they are passing by. After they stop and look at your poster for 30 seconds, and then if they haven't said anything, then ask if they have any questions. Let that be the beginning of the oral part of the presentation.
Prepare to see and hear experts and other students scrutinize your work. Professors like to ask questions that you won't be able to answer or that require another level of understanding (e.g. a chemist may ask you a question about the chemical structure of a drug when you are presenting behavioral research). Again, do your best to answer the question with the knowledge you have, but these experts will know when you're lying. It's okay to admit you don't know something.
Wear comfortable shoes. You will probably be standing in front of your poster for several hours.
Make friends with the people with posters on either side of you. It can get pretty boring if no one is looking at your poster.
Mark ahead of time posters that you want to look at while the other poster sessions are going on.
From https://pangea.stanford.edu/
Different Formats
PowerPoints
Stay away from the fancy transitions. They're distracting and unprofessional.
Only include a video if you know the link works. Test it on both Macs and Windows computers.
Use bullet points rather than full sentences. Treat these bullets like cues for you to complete the explanation.
Posters
Keep text large. You want someone standing three feet away to be able to read it.
Make sure graphics will be clear from several feet away as well.
References or Works Cited sections do not need to be as big as other text on the poster.
Again, use bullet points. Nothing is more off-putting than a poster covered with 10-point font.
Print the poster at least a week ahead of time. Color errors happen and no one wants a graph with pink and purple bars rather than red and blue bars.
Prezis
Best suited for shorter presentations, especially if you're unfamiliar with the technology. If your senior seminar is a Prezi, you're not going to do well. Use Prezis if the presentation is 2-5 minutes.
Maintain professionalism when designing transitions. Getting your audience seasick will not get you any points.
If you've practiced your presentation, picked out your appropriate clothing, and thought about what you're going to eat for breakfast, it's time to go to sleep. Good luck, have faith in your practice, and relax. You're going to do great!
~Cari, Peer Tutor